Wernher von Braun proposal (1947 through 1950s) (apr 10, 1947 – jan 23, 1959)
Description:
Wernher von Braun: the first person to make a detailed technical study of a Mars mission.
His book Das Marsprojekt (1952, published in English as The Mars Project in 1962) ;
Featured in Collier's magazine in a series of articles beginning March 1952.
A variant of the Von Braun mission concept was popularized in English by Willy Ley in the book The Conquest of Space (1949).
Von Braun's Mars project envisioned nearly a thousand three-stage vehicles launching from Earth to ferry parts for the Mars mission to be constructed at a space station in Earth orbit. The mission itself featured a fleet of ten spacecraft with a combined crew of 70 heading to Mars, bringing three winged surface excursion ships that would land horizontally on the surface of Mars.
Later versions of the mission proposal, featured in the Disney "Man In Space" film showed nuclear-powered ion-propulsion vehicles for the interplanetary cruise.
https://history.msfc.nasa.gov/vonbraun/disney_article.html
Added to timeline: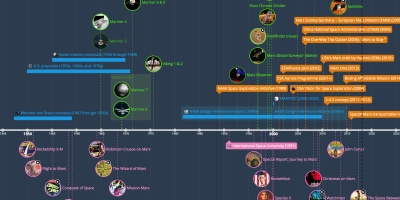 Timeline of Mars
Date:
Images: