Australian forces fought on the Western Front and in the Middle East (7h 42min, jan 1, 1916 y – nov 11, 1918)
Description:
Heavy losses on both sides because of fights on the no man's land.
Australians also suffered many casualties (76 836) in battles such as Bullecourt, Messines, and Ypres (battle of Passchendaele).
Added to timeline: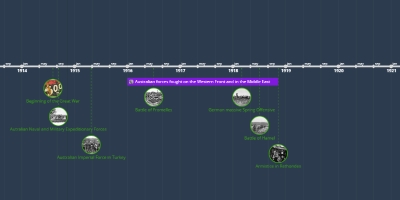 Australians during the Great War
This timeline offers an overview of Australia's involvement ...
Date:
Images:
Geo: