The 60's Boom (jan 1, 1960 – nov 1, 1969)
Description:
The sixties were perhaps the 'holding era' for British cinema with an expansive 50's directors like Lean really held the reins and the industry charged on. Commercially the bond movies were highly successful and quality films were also directed by Basil Dearden. Actors and actresses were aplenty and in much demand. Four of the decade's Academy Award winners for best picture were British productions.
Added to timeline: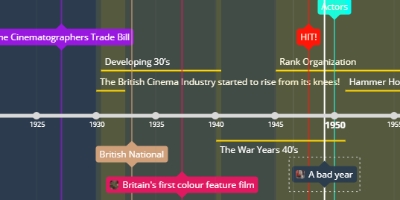 British Cinema History
Ознакомьтесь с данным ресурсом и составьте ленту времени в с...
Date:
YouTube: