The Galic Wars (dec 12, 58 BC – jun 24, 50)
Description:
The Gallic Wars were a series of military campaigns waged by the mighty Julius Caesar against several Gallic tribes. The most important battle culminated in the decisive Battle of Alesia in 52 BC, in which a complete Roman victory resulted in the expansion of the Roman Republic over the whole of Gaul (mainly present-day France and Belgium).
Added to timeline: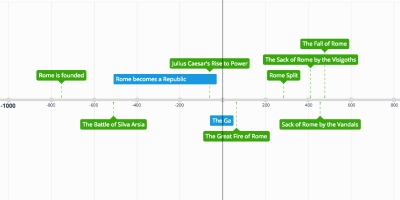 The Rome Timeline By: Austin Ma
Blue is events stretched over a period of time.
Date: