Rome becomes a Republic (sep 22, 509 BC – nov 7, 27 BC)
Description:
It all began when the Romans overthrew their Etruscan conquerors in 509 B.C.E. Centered north of Rome, the Etruscans had ruled over the Romans for hundreds of years. Once free, the Romans established a republic, a government in which citizens elected representatives to rule on their behalf. The rule ended in 27 BC as the last king is expelled as the Roman Republic is formed.
Added to timeline: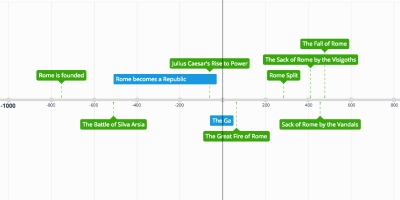 The Rome Timeline By: Austin Ma
Blue is events stretched over a period of time.
Date: