apr 12, 1961 - Yuri Gagarin Becomes the First Man in Space
Description:
Yuri Gagarin was aboard the Vostok 3KA-3 and becomes the first man in space. He was wearing an SK-1 suit, and, unlike most space suits, was not designed for space walks. It was instead designed to become pressurized should the cabin lose pressure.
This was a mojor jump in the Space Race. Leads to Americans wanting more to be done in the advancement of their space program.
Added to timeline: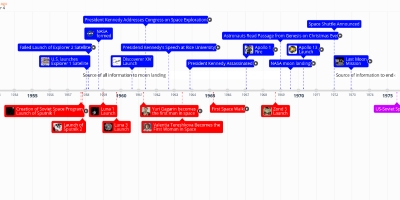 Space Race
From the launch of Sputnik 1 to the U.S.-Soviet Space Dock.
Date:
Images:
YouTube: