oct 4, 1957 - Creation of Soviet Space Program Launch of Sputnik 1
Description:
Launch of Sputnik 1
Beginning of the Space Race
Sputnik 1 was carried into orbit on a modified R-7 Rocket. The R-7 was created in the 1950's as one of the first intercontinental ballistic missiles meant to carry nuclear warheads.
This event led to mass hysteria from the American people because most believed that since the Soviet Union could send a satellite into space, that a nuclear warhead would soon follow. This led to nuclear bomb drills being practiced in schools for years to come.
https://airandspace.si.edu/collection-objects/sputnik-1-replica
Added to timeline: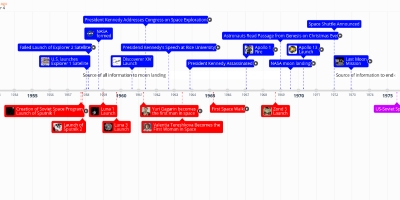 Space Race
From the launch of Sputnik 1 to the U.S.-Soviet Space Dock.
Date:
Images:
YouTube: