jan 10, 2059 - OG Scientist dies.
Description:
At age 84, our OG Scientist dies of "exposure". Government results reveal that the trips so many people have been taking, lead by OG Scientist could cause them to get abruptly sick and die without warning, "just like our beloved Scientist".
Government produces a 'vaccine' almost immediately, suspends trips to the outside and closes the forcefield for 'safety' reasons. Nobody is allowed in or out 'temporarily'.
New suits are designed for the disposal team and since almost the entire team is in quarantine, a backup team goes through emergency training and is put in place to handle the waste disposal. This back up team is composed mostly of normals. The new suits were developed by the new agency, which also ran the emergency training and provided the back up team.
Added to timeline: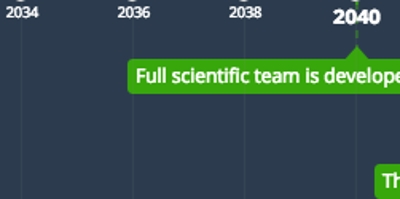 Beginnings
story
Date: