may 13, 1690 - Louis Le Prince
Description:
-Louis Aimé Augustin Le Prince was a French inventor who shot the first moving pictures on paper film using a single lens camera. He has been heralded as the "Father of Cinematography" since 1930.
-He worked both in the UK and United States, however he never made it to a planned showcase of his new invention in the US because he mysteriously vanished from a train on 16 September 1890.
-Not long after Le Prince's disappearance, Thomas Edison tried to take credit for the invention. But Le Prince's widow and son, Adolphe, were keen to advance his cause as the inventor of cinematography. In 1898 Adolphe appeared as a witness for the defence in a court case claiming that Edison was the first and sole inventor of cinematography, and thus entitled to royalties for the use of the process.
-Adolphe Le Prince was not allowed to present his father's two cameras as evidence and eventually the court ruled in favour of Edison. However, a year later that ruling was overturned.
Added to timeline: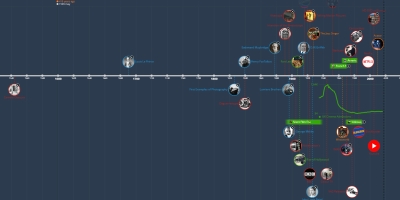 History of Film
Date:
Images:
YouTube: