jan 20, 1989 - Modern Recording Software
Description:
The first software based digital multitrack recorder, called Deck, and was released in 1990. The core engine technology and much of the UI was programmed and designed by Josh Rosen and Mats Myrberg from a small San Francisco based company. They formed the platform which Pro Tools was built in 1991. The same technology lay behind the 1992 release of Cubase, the first version to offer audio support in addition to MIDI sequencing capabilities. By the 1990's, computer based digital multitrack recording systems such as Pro Tools and Cubase were being adopted by the recording industry, and soon became standard. By the early 2000's, rapid advances in home computing and digital audio software were making digital multitrack audio recording systems available to the average consumer, and high-quality digital multitrack recording systems like GarageBand were included as a standard feature on home computers.
Added to timeline: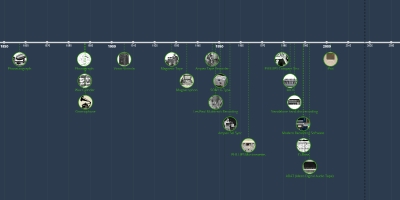 Unit 5: Music Technology in Context.
Date:
Images: