mar 16, 1830 - First kind mistress
Description:
When Douglass was moved to Baltimore, he had received new masters. One of which was, Mrs. Auld. Her first impression was quite warm, a feeling unfamiliar to Federick. This effect that Mrs. Auld would be temporary, but the lesson that she taught him (quite literally) would be permanent. When Mrs. Auld decides to teach Douglass how to read, it sparks a need to know more about the world around him. This enables him to many possibilities, good and bad. He will eventually find a way to become the master of his own mind, simply by reading and writing.
Added to timeline: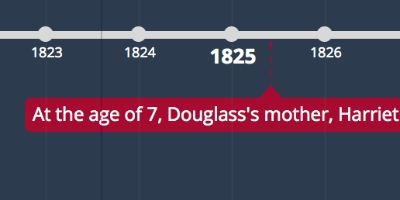 Frederick Douglass
Click on each event and read caption.
Date:
Images: