dec 16, 1829 - Around the age 12, Douglass witnessed the brutal beatings of his Aunt Hester.
Description:
At a very young age, Douglass was exposed to the horrible violence that the masters were capable of. He had seen his Aunt Hester be beat naked for hours, for unjust reasons. Viewing these brutal whippings, had served as an example to Douglass as what he had to avoid for his entire life. But, even if any slave tried, in all of their ability to not be treated as Aunt Hester had, it was not a guaranteed safety. A slaves life was not fair. And it is not clear if the man responsible for these traumatizing times, Mr. Plummer, did it purely for his own entertainment, jealousy, or because Hester had deserved it.
Added to timeline: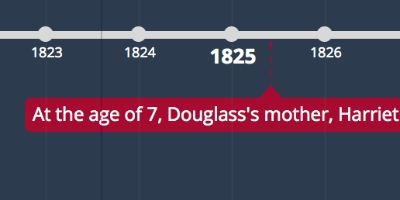 Frederick Douglass
Click on each event and read caption.
Date:
Images: