may 12, 2017 - National University of Singapore (NUS) Hacked
Description:
http://www.straitstimes.com/singapore/hackers-broke-into-nus-ntu-networks-in-search-of-government-research-data
SINGAPORE: The National University of Singapore (NUS) and Nanyang Technological University (NTU) suffered separate IT network breaches in April, according to the Cyber Security Agency (CSA) and the Ministry of Education (MOE) on Friday (May 12).
On Apr 11, NUS detected an unauthorised intrusion into its IT systems through a single server, while NTU detected a malware attack on Apr 19 possibly due to phishing or browsing of infected sites.
Both universities then alerted CSA, which has since been assisting them by conducting forensics and implementing mitigating measures, the joint press release added.
The objective of the attacks "may be to steal information related to Government or research", said authorities, adding that "there is no evidence that information or data related to students was being targeted".
Malicious activity was also detected in other institutions, Government agencies and industries during this period - but these were isolated and limited incidents which were quickly cleaned up, Channel NewsAsia understands.
Added to timeline: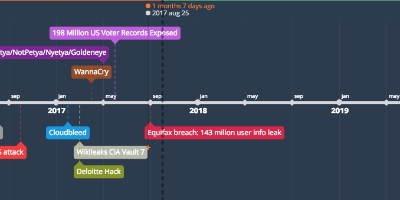 CyberSecurityAssessor.ninja
Date: