jul 4, 1970 - Speakeasy, London
Description:
"Jeff [...] seemed to be willing to try just about anything to keep busy or divert him from the business of forming a group, including playing side man to Elton John on a possible American tour. Though not a household name as yet, John had already established his credentials as a promising singer-songwriter, his self-titled debut album of April 1970 causing a stir among the critics and producing a minor hit in the US with the single 'Border Song'. As its follow-up, 'Your Song' was likely to break Elton wide open in the States, the pianist had been conducting rehearsals for a series of dates there in August. Having heard John's LP and its obvious country influences, Beck was initially sceptical. But a visit to see the pianist perform at London's Speakeasy club - where Elton provided a surprisingly rocking set - eased his concern. As with Beck's Motown experiment, things went badly with Elton. With the guitarist arriving an hour late for their first meeting at Hampstead Town Hall due to malfunctioning car, John proceeded to bite Jeff's ear off for his tardiness. Once matters settled, they actually got on well enough, with the bespectacled one complimenting Beck on his highly melodic tone. But when the guitarist suggested replacing John's regular drummer, Nigel Olsson, with Cozy Powell, the two swiftly parted company" from 'Hot Wired Guitar: The Life of Jeff Beck' by Martin Power, 2014.
This is likely to have been at Decca Studios, Broadhurst Gardens, where the Beatles were turned down in 1961.
Added to timeline: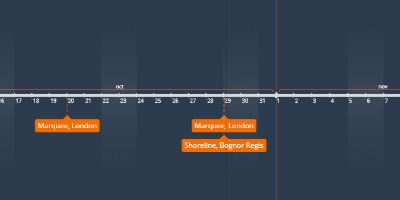 Early Elton Milestones
Date: