mar 19, 1969 - TV performance - Lady Samantha Lift off With Ayshea
Description:
Possibly EJ playing Lady Samantha live on Granada, first TV appearance, but the timing is off with the following information. Both Jack Deighton and my contact Tom Casey remember seeing him on there. Programme was 'Discotheque' in Jan 1969. Both remember Ayshea Brough introducing him. Unlikely to be on her show, Lift Off With Ayshea, as this started later on. See link here http://archive.li/gFn4C and the following text - "Lift Off was spun off from the short-lived 20-minute Granada series Discotheque, which began in January 1969, hosted by Billy J. Kramer, the Remo and the Four Spots.
On the March 19 edition 21-year old Ayshea Brough a former Ballet, Music, Drama and Dance student who was originally signed to the record company, Phillips Fontana, made her debut. Ayshea proved to be an instant hit with the young audience and was already making headlines and picture features in the TV Times by April. The last edition of Discotheque was broadcast at 4.55pm on April 16 and starred Dave Dee, Dozy, Beaky, Mick and Tich. Lift Off launched on November 5 1969, Kramer being replaced as co-host by Graham Bonney who sang to the backing of resident group, The Pattern and adding their own interpretations of contemporary numbers were The Ken Martyne Dancers (later known as The Feet). Each week Lift Off featured popular recording artists and newcomers to the scene. Although the series failed to regularly attract the big headliners recording stars such as Jimmy Cliff, P.P. Arnold and Ray Davies stopped by in the first season.
Season Two started on 7th October 1970..."
Added to timeline: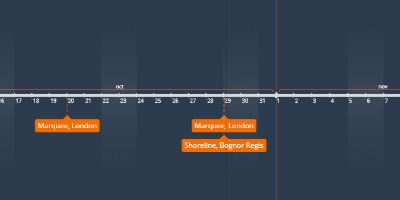 Early Elton Milestones
Date: