apr 8, 2083 - Formation of "the Rhone Confederacy"
Description:
In 2081 Valence elected mayor Jerome Moreau on the platform of the creation of a trade league and political alliance with the rest of the settlements on the Rhone and the resettlement of Lyon and Grenoble. By 2083 he had convinced most of the major settlements, including Avignon, to come to a meeting held in Valence. There he outlined the creation of a new economic political partnership in the style of the old world. Though many thought that the Archbishop would oppose this vehemently they were shocked to see him become an ardent supporter of the creation of this confederacy. A few months later in 2084 at the end of Jerome's term the constitution was agreed upon and over the course of those months it became clear why the Archbishop had supported Moreau's plans. The constitution stipulated that the Archbishop would be given a permanent office as head of the church in the new confederacy and retain their position as the executive for the city of Avignon.
The success in establishing the confederacy which at first when under the name the Rhone Confederacy earned Moreau a second term, this time as prime minister of the confederacy.
Added to timeline: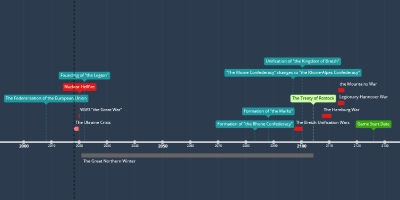 "A Legionary Dream" Timeline
Date: