sep 12, 2017 - The foundation reaches out to victims of Hurricane Irma, people and pets alike
Description:
Tony La Russa and the ARF sent out a message encouraging everyone to support relief efforts. The only different thing about their relief efforts is to help the cats and dogs evacuate out of areas being affected by the hurricane. You can also donate, which gives them money to get more and more animals out of danger. In all the chaos of a hurricane, people and media can forget about the animals being affected, but the ARF makes sure that they're cared for. This positively impacts everyone being affected int he hurricane, especially those with pets that are being rescued. ARF is always making positive changes and saving lives
Added to timeline: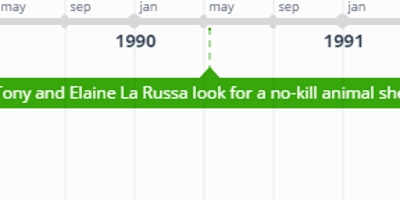 ARF Timeline
Click on green texts to see a full description, picutres, et...
Date:
Images:
YouTube:
Geo: