apr 20, 1913 - Bohr
Description:
Bohr studied the Rutherford model and discovered it was incorrect; instead, he modified it "...by requiring that the electrons move in orbits of fixed size and energy."
[Bohr Atomic Model, abyss.uoregon.edu/~js/glossary/bohr_atom.html. Accessed 29 Sept. 2017.]
Bohr created an atomic model that showed how the nucleus was positively charged, and the electrons "orbiting" it were negatively charged.
http://abyss.uoregon.edu/~js/images/classical_atomic_orbit.gif
[image of model from the same source]
Added to timeline: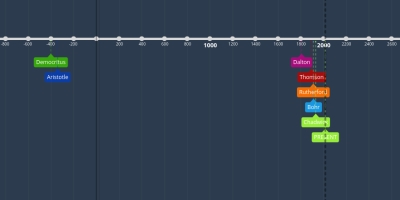 Atomic Model Timeline (click on the names)
science lab assignment
Date: