sep 13, 1911 - Rutherford
Description:
Rutherford created the planetary model of the atom.
He discovered what a nucleus is, and realized it's positively charged. "Rutherford tested Thomson's hypothesis by devising his "gold foil" experiment. Rutherford reasoned that if Thomson's model was correct then the mass of the atom was spread out throughout the atom."
[Rutherford model of the atom, www.iun.edu/~cpanhd/C101webnotes/modern-atomic-theory/rutherford-model.html. Accessed 28 Sept. 2017.]
the model can be seen as this: http://www.iun.edu/~cpanhd/C101webnotes/modern-atomic-theory/images/Rutherford-atom.jpg (taken from the same source)
Added to timeline: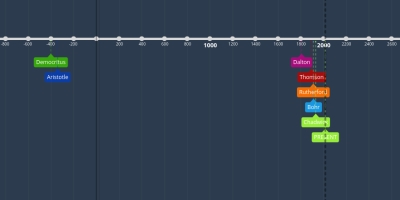 Atomic Model Timeline (click on the names)
science lab assignment
Date: