mar 22, 1895 - Lumiere Brothers
Description:
-Lumière brothers, French inventors and pioneer manufacturers of photographic equipment who devised an early motion-picture camera and projector called the Cinématographe.
-They patented an improved cinematograph, which in contrast to Thomas Edison's "peepshow" kinetoscope allowed simultaneous viewing by multiple parties.
-The Lumières held their first private screening of projected motion pictures in 1895. This first screening on 22 March 1895 took place in Paris, at the "Society for the Development of the National Industry", in front of an audience of 200 people.
-The Lumières gave their first paid public screening on 28 December 1895, at Salon Indien du Grand Café in Paris. This history-making presentation featured 10 short films, including their first film, Sortie des Usines Lumière à Lyon (Workers Leaving the Lumière Factory).
-Each film is 17 meters long, which, when hand cranked through a projector, runs approximately 50 seconds.
Added to timeline: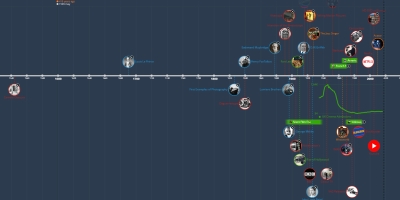 History of Film
Date:
Images:
YouTube: