jan 1, 1878 - Eadweard Muybridge
Description:
-Muybridge was an English photographer important for his pioneering work in photographic studies of motion, and early work in motion-picture projection.
-Today, Muybridge is known for his pioneering work on animal locomotion in 1877 and 1878, which used multiple cameras to capture motion in stop-motion photographs, and his zoopraxiscope, a device for projecting motion pictures.
-He also edited and published compilations of his work, which greatly influenced visual artists and the developing fields of scientific and industrial photography.
Added to timeline: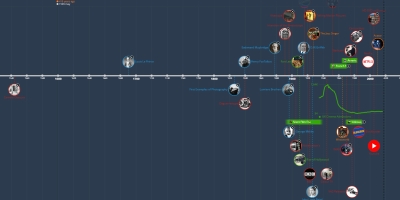 History of Film
Date:
Images:
YouTube: