nov 11, 2017 - Seminar: PA Fall 2017 MP+
Description:
Currently Untitled (CEL)
Summary: This project attempts to delve deeper into the pros and cons of animals in human care on a more individual basis. I am considering a media project where I can show the daily life of service animals used in therapy and hospitals. So far, I'm considering a video presentation that follows a few specific service/therapy animals on their rounds to see how both the animal and the people they meet are affected. These videos will be converted into a Prezi with voice-over giving information from the presentation as it runs. The accompanying paper would cover any benefits or costs of having service or therapy animals for both humans and the animals themselves. I predict a lot of positive results on both accounts, but the topic is one I feel could use more in-depth coverage. I would also like to post this presentation to care facilities that may not use therapy/service animals to promote their benefits and to several local shelters to spread understanding of service animals. My Master Plan is directed towards animals in human care. I have done several projects that fit into this theme, and most have focused on the benefits to humans, issues of husbandry and care, and the benefits to the environment and biodiversity. This ptoject will focus heavily on the pros and cons of animals not only in our care, but those that are being used for a specific service. Community Engagement, Voice, and Local Understanding are all large perts of this project.
Added to timeline: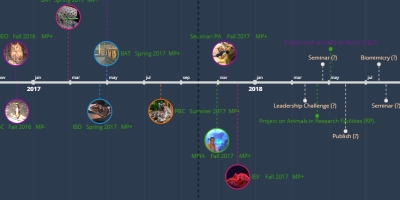 Master Plan: Animals in Human Care
Allegra Sewell. Timeline of my journey in AIP. My Master Pla...
Date:
Images: