apr 30, 2017 - BAT Spring 2017 MP+
Description:
SheltertoShelter (CEL).
Summary: I created a website with the purpose of connecting local, Northeast Ohio shelters and providing a resource for those interested in knowing what shelters do. The website contained lists of local shelters, veterinarians, low-cost spay and neuter facilities, and connections to volunteer/donation pages. Another major component of the project was a open blog portion, where people from shelters, pet owners, or those just curous about any of the issues presented could post comment, ask questions, and promote local events. I also used this as a platform to disseminate some of my previous work, such as information on why to keep cats indoors. The website was posted to several shelter Facebook pages and promoted physically in some shelters, as well. This project is part of my MP in that it spreads information about the care of animals, and uses community resources and knowledge to promote animal wellbeing. This project has components of Community Engagement, Local Understanding, and Voice. It was very important that the website have an open discussion format, to ensure knowledge of this topic would spread as far as possible. The website is currently on hiatus, but I do plan to return to it.
Link:
https://sewellad.wixsite.com/sheltertoshelter
Added to timeline: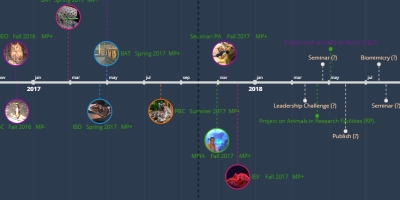 Master Plan: Animals in Human Care
Allegra Sewell. Timeline of my journey in AIP. My Master Pla...
Date:
Images: