feb 26, 2017 - BAT Spring 2017 MP+
Description:
The AutoFish Tagging System (IG).
Summary: This was an infographic/media project that showcased the AutoFish Tagging System used in many fisheries around the globe. This automated system was specifically designed to reduce stress on wild and fishery-born fish as they were processed, tagged, and released either back into nature or into fishery ponds. This tagging system decreased the damage done to fish as they were tagged and the amount of time the process took to complete, and helped ensure that native populations of vulnerable species of fish were not being overfished. This project aligns with my MP as it focuses on a system that increases the wellbeing of the fish that are being handled and processed by humans. Using the AutoFish system allows humans to continue to reap the benefits of the food resource the fishery fish provide while mitigating the amount of wild bred fish affected. This project was similar to a research paper, where I used inquiry to better my understanding of a conservation issue and shared it with my classmates.
Link:
https://padlet.com/asewell333/1i8iv1qa4mp5
Added to timeline: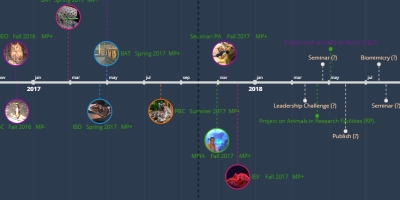 Master Plan: Animals in Human Care
Allegra Sewell. Timeline of my journey in AIP. My Master Pla...
Date:
Images: