13h 53min, dec 4, 2016 y - CSC Fall 2016 MP-
Description:
Mapping indicator bird species habitat and sightings within the Cleveland Metroparks reservation system (CEL).
Summary: This research attempts to discover if protected areas such as these are having a positive effect on threatened bird species by providing appropriate environments for breeding, habitation, and foraging. Nineteen Cleveland Metroparks reservations were mapped that provided habitat for threatened birds. They were then compared for their sightings of three indicator bird species (Bobolink, Eastern Meadowlark, and Savannah Sparrow) by amateur birders on the program E-bird. The research found that while most of the reservations had sightings of these species, only two contained the majority of the instances. This indicates that many of the reservations do not contain the proper habitat for these birds to live in, the birds are not using the space for some other reason, or they are not being detected by birders. Future preservation efforts should incorporate more variety in the types of ecosystems that the reservations contain, and areas of land that are currently unprotected may need to be added to the Cleveland Metroparks system. This project only minutely relates to my MP, in that the care and upkeep of the Metroparks systems are the responsibility of humans. The species researched, however, were not under captivity at the time of the observations.
Link:
https://docs.google.com/document/d/1XNurV-kAI9HhTaxtyl6leeqHR7dgp9minuMMLQOFanU/edit?usp=sharing
And
https://drive.google.com/open?id=1dd3wnk2mGZU6UGuiFYVUjcEyi2E&usp=sharing
Added to timeline: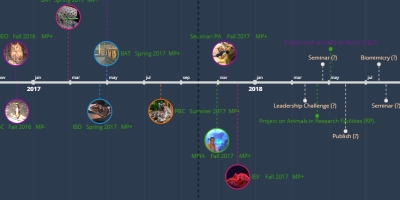 Master Plan: Animals in Human Care
Allegra Sewell. Timeline of my journey in AIP. My Master Pla...
Date:
Images: