13h 25min, dec 2, 2016 y - ESC:NEO Fall 2016 MP+
Description:
For the Birds: Encouraging the Community to Keep Cats Indoors (CEL).
Summary: For this project, I completed a CEL which educated my local community on the reasons pet domestic cats should be kept indoors. A program was created to attempt to educate cat adopters from the Parma Animal Shelter about keeping their cats indoors, both for the cats' safety and for the protection of the environment. A pamphlet about the dangers of letting cats outdoors was created to be handed out with a bird feeder made of recyclable materials. The feeders were created by the Magnificat High School nature club after a lesson on cat safety and the effects of cats outdoors. These feeders were offered to every person who adopted a cat from the Parma Animal Shelter over the course of two weeks. They were also given instructions on how to enter into a raffle with the installation of their feeders. Most cat adopters accepted a feeder and pamphlet, indicating that most adopters are at least willing to learn about the importance of keeping cats indoors. No adopter responded to the raffle. This project connects to my MP in a variety of ways. First, the responsibility for the care of pet cats and reducing their danger is a major proponent of the project. Secondly, educating the public about the environmental consequences of indoor-outdoor cats and what they can do to decrease the impact connects animals in captivity to conservation. Lastly, the education portions of this project worked towards increasing understanding of animals in captivity; their needs, the disadvantages, the advantages, etc. This project fulfills the community engagement and environmental stewardship portions of the MP. It was also meant to create local understanding of a worldwide issue.
Link:
https://docs.google.com/document/d/1WF5kxkQ7zUfNEgS1piLpmS0alIG9sDQx195iETpdBRw/edit?usp=sharing
Added to timeline: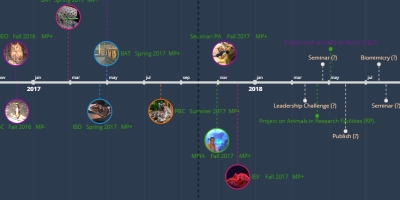 Master Plan: Animals in Human Care
Allegra Sewell. Timeline of my journey in AIP. My Master Pla...
Date:
Images: