aug 1, 2016 - FOI Summer 2016 MP+
Description:
The influence of taxonomic class on enrichment type and frequency at Cleveland Metroparks Zoo. (IP).
This project consists of an IAP which assessed how enrichment was being used at Cleveland Metroparks Zoo between taxonomic classes. Two species from each vertebrate class, two terrestrial invertebrates, and one aquatic invertebrate (due to availability) were observed on multiple days over a month-long period. Whether they were given enrichment each day, what type of enrichment, and if it was utilized was recorded. The findings indicated that vertebrate classes such as mammals and birds received enrichment most frequently, while fish and terrestrial invertebrates received the least. The single aquatic invertebrate (the Giant Pacific Octopus) received similar amounts of enrichment to the mammals and birds. This project relates to my MP, because it highlights some of the critical aspects of animals in human care. The care of captive animals includes more than their basic medical and husbandry needs, and should include plans for their physical, mental, and emotional well being. Enrichment in a zoo or in other types of facilities can provide sensory stimulation, encourage natural behaviors, reduce stress, and discourage abnormal behavior. This project focused heavily on the inquiry portion of the MP.
Added to timeline: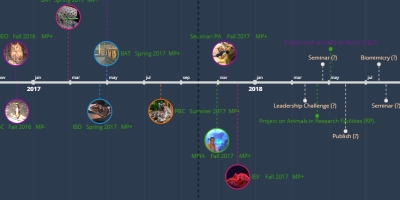 Master Plan: Animals in Human Care
Allegra Sewell. Timeline of my journey in AIP. My Master Pla...
Date:
Images: