jan 28, 1995 - ARF educates other ages, spreads the idea of love for all aniamls to more people than ever before
Description:
Almost 5 years after it's founding, the Animal Rescue Foundation is still determined to be a driving force for impactful, positive change. Now educating seniors, veterans, at-risk youth, and more people in need, they're affecting more lives than ever. I also think they are definitely changing lives for the better. Not only do the animals get a loving and caring home, but the people who choose to adopt animals will see how valuable a pet is. This directly affects a lot of families because a lot more people will be more open about taking in a pet.
Added to timeline: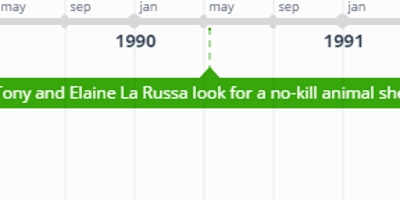 ARF Timeline
Click on green texts to see a full description, picutres, et...
Date:
Images:
Geo: