apr 12, 1993 - Early humane education programs begin
Description:
By teaching grade-school aged kids the importance of loving animals, this event strongly affects the way thousands of kids treat animals. The ARF wanted to expand from more than rescuing animals and reach out to children this time. By teaching one kid about loving animals, that one child can end up telling a few more people, who can tell a few more people too. This means that the foundation not only educated kids on the importance of loving animals, but it also raised awareness about this idea to many more than just grade-school aged kids, greatly impacting thousands of people.
Added to timeline: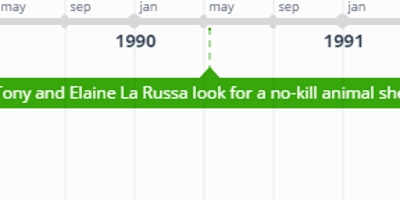 ARF Timeline
Click on green texts to see a full description, picutres, et...
Date:
Images:
Geo: