jul 22, 1081 - Ely Cathedral, England, (United Kingdom)
Description:
1. What parts of the church were built in the 11th century?
- West facade
- Nave
- Transept
2. What architectural style was used for the Lady Chapel? What characteristics can you identify here?
- Perpendicular style
- Lierne: a decorative, non structural supplementary rid added to Gothic vaulting, vaults with ribs
3. What is a lantern? Why was the lantern at Ely built out of wood, and not stone? What techniques were used?
- Because the supports were not strong enough to hold a stone lantern
- crossing tower; it collapsed with stone so wood was used because it's lighter;
- hammerbeam truss (short cantilevers extending out from the wall to narrow the span)
Added to timeline: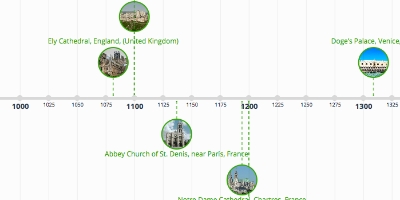 Arch 250 Klein Exam 1 Timeline
Timeline of Prof. Klein Architecture Survey 2
Date:
Images: