oct 23, 1220 - Salisbury Cathedral, England
Description:
1. The plan of Salisbury Cathedral was influenced by medieval monastery design; explain how we can tell.
- Double transept and square east end
2. What are the characteristics of the Decorated Style seen at Salisbury?
- Use of tracery between the main arcades and the resulting geometric forms
3. How does Salisbury compare to Canterbury cathedral in England? Chartres Cathedral in France?
- It has a square apse instead of a round apse
Added to timeline: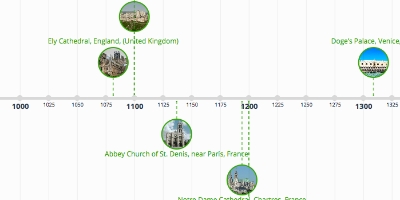 Arch 250 Klein Exam 1 Timeline
Timeline of Prof. Klein Architecture Survey 2
Date:
Images: