jan 29, 1155 - Notre Dame Cathedral, Laon, France
Description:
1. Laon Cathedral exemplifies the characteristics of an early Gothic church: can you describe the façade of this church including the names of the main parts and their decoration?
-Triple portal with pinnacles
-Lancet windows
-Central rose window with lancet windows
-Arcaded open gallery
-Towers with open work turrets
2. What are the main parts of its plan and how does this relate, practically and symbolically, to the purpose of a Gothic cathedral?
-Narthex
-Nave
-Aisles
-Transepts
-Crossing
-Chancel
-The Cathedral looks like a Cross
3. What are the four parts of the interior elevation of this cathedral? What is the major structural development seen here?
-Arcade
-Gallery
-Triforium
-Clerestory
Development: Rib vaults and pointed arches above nave
4. What is particularly notable about the sculpture of the openwork towers? What does this tell us about the process of building of the cathedral?
-There are dozens of oxen sculptures on the tower, this tells us that they used oxen to move the heavy building material and the sculpted them to show thanks.
Added to timeline: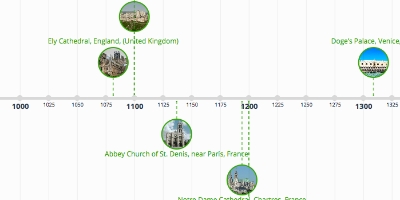 Arch 250 Klein Exam 1 Timeline
Timeline of Prof. Klein Architecture Survey 2
Date:
Images: