jan 1, 1137 - Abbey Church of St. Denis, near Paris, France
Description:
1. Explain the importance of the location of the church of St. Denis, how many churches have stood here, and how the church is connected to the kings of France.
- Body of St. Denis walked north carrying his own head until he reached that location.
- 4 churches have stood where St. Denis is
- French royal monastery, burial place of Royalty
2. What are some of the written sources, spiritual goals and buildings that influenced Abbot Suger and his vision for building a new church at St. Denis?
- Description of temple of Solomon in the old testament
- Writings of St. Denis
- Church of Hagia Sophia
He wanted to rebuild the church for the greater glory of God and France, but he had to set the church's financial affairs in order first.
3. How much of the church was completed during the Early Gothic Phase? What are some of the Early Gothic details of the facade?
- 1137-1144
- portals, towers, buttresses, crenelations, small rose window, lancet windows
4. How does the ambulatory reflect Abbot Suger's desire to fill the church with light? What are some of the structural elements that specifically make this possible?
-The skeletal Gothic structure facilitated the installation of large windows
-The ambulatory is filled with intricate stained glass windows.
-Pointed arch, rib vaults, and buttresses.
5. How was the upper part of the Basilica at Saint-Denis changed in the 13th century? What innovations did the Saint-Denis Master introduce to the building and how did this advance Abbot Suger's vision of the church?
-The upper part of the choir and transepts was taken down and rebuilt by the 'Saint-Denis Master'.
-Compound piers consisting of a cluster of vertical shafts start at the floor and extend upward to the springing of the rib vaults.
-Bar tracery unites the triforium with the clerestory above => linkage.
-The wall behind the triforium was opened to the outside and provided with windows, which brings more light inside => Glazed triforium.
Added to timeline: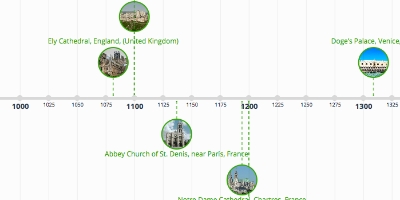 Arch 250 Klein Exam 1 Timeline
Timeline of Prof. Klein Architecture Survey 2
Date:
Images: