jan 1, 1421 - Ca' d'Oro, Venice, Italy
Description:
1. What type of building is this and what purposes did it originally serve? What is it today?
- Palazzo for the contarini family, today is a museum
2. Who built the Ca' d'Oro in Venice? How do the design and decoration of the building express family identity and social
- Marin Contarini; made of brick with timber foundations and ties, colored stones (red and white), arch shapes used from the Doge's Palace (friends with that guy)
3. What decorative elements does it borrow from the Doge's Palace? What is borrowed from northern European Gothic architecture?
- the red and white stones and the arch shapes (ogee, interlaced); has a quay on the ground and galleries on second and third floors
Added to timeline: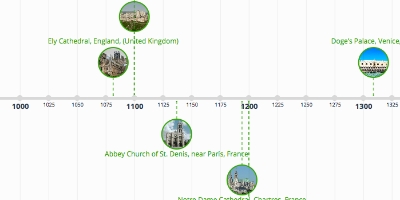 Arch 250 Klein Exam 1 Timeline
Timeline of Prof. Klein Architecture Survey 2
Date:
Images: