jan 1, 1443 - Hospital of Hôtel-Dieu, Beaune, France
Description:
1. What were the purposes of hospitals in medieval Europe?
- Hospitals were developed as places where people could seek care, for illness, infirmity, or simply food and shelter.
2. Who paid for the endowment of this hospital? How do we know?
- It was founded by Nicolas Rolin, Chancellor to the Duke of Burgundy, and his wife.
- The proof is in the painting of the last judgement above the altar in the chapel. It shows the two patrons at the sides of the main composition.
3. What are some of the most notable characteristics of the construction of the building, inside and out?
- Very colorful patterned tiles (exterior)
- Oak barrel vault ceiling (interior)
- Beds line the sides of room and a chapel is located at the end (interior)
Added to timeline: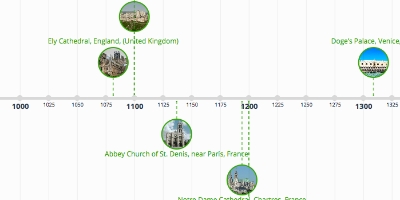 Arch 250 Klein Exam 1 Timeline
Timeline of Prof. Klein Architecture Survey 2
Date:
Images: