jan 1, 1100 - Cressing Temple, Essex, Wheat Barn, England (United Kingdom)
Description:
1. Who owned this land and built the Wheat barn? What does this tell us about the importance of agriculture to medieval society?
- Knights Templar, they wanted to protect pilgrims to the Holy Land
2. What does the Wheat Barn at Cressing Temple tell us about medieval wooden buildings? What techniques were used in its construction? Do you think this would be an expensive or inexpensive structure to build and why?
- Built of oak on stone sill
- Post-and-lintel construction with trusses to support roof
- Expensive because wealthy landowners lived here
Added to timeline: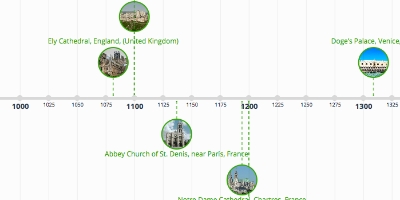 Arch 250 Klein Exam 1 Timeline
Timeline of Prof. Klein Architecture Survey 2
Date:
Images: