sep 1, 1497 - Vasco de Gama
Description:
A Spanish explorer that worked for the Portuguese. He was the first European to reach India and SE Asia by sea. During the sail, he got way off course due to a storm when he was over halfway done with Africa's left border and got blown to the west. Over to the west, he discovered an important wind pattern called the westerlies which he used to slingshot his ship back on course. These winds made the trip much faster and a lot less miserable than Diaz's initial exploration.
Added to timeline: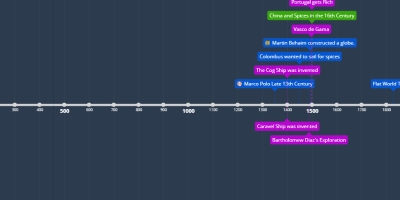 US History Timeline
A timeline for US History Honors class instructed by Michael...
Date: