jan 1, 1400 - The Cog Ship was invented
Description:
This ship was invented in Southern Europe in the 15th century was developed by the Portuguese in the same century. The Cog ship is good for sailing in places that are already explored and familiar such as the Mediterranean, but it isn't good for exploring the unknown. It's heavy, sets deep in the water, and is harder to maneuver than the Caravel which makes it more likely to get damaged and shipwrecked.
Added to timeline: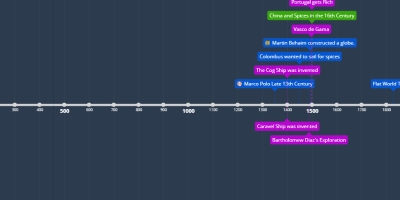 US History Timeline
A timeline for US History Honors class instructed by Michael...
Date: