jan 1, 1500 - China and Spices in the 16th Century
Description:
China was the superpower of the world in technology and commodities. They were way more advanced than any European powers.
Spices such as Cinnamon, Nutmeg, Cloves, Peppercorn (Pepper), and Mace (Nutmeg Tree Bark) were in extremely high demand. In fact, they were in so high demand that people fought wars over it. Fun fact about Cloves: They only grew on one island back in the 16th century and were extremely difficult to grow elsewhere. A shipful of cloves would set up a family for generations to come if they managed to get their hands on it. Because of the rarity of spices, whichever country controls the spice trades basically becomes super rich.
Added to timeline: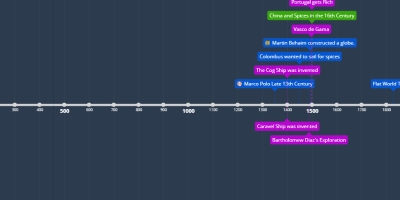 US History Timeline
A timeline for US History Honors class instructed by Michael...
Date: