jan 1, 1350 - Marco Polo Late 13th Century
Description:
A merchant from Venice who brought Asian commodities to Europe along the Silk Road. He wrote a book about his experiences in China that became famous since it was so exotic (very few merchants wrote about their travels). This book influenced Colombus into trying to find a sailing route to China. The map above depicts the Silk Road.
Added to timeline: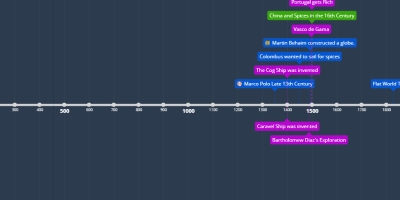 US History Timeline
A timeline for US History Honors class instructed by Michael...
Date:
Images: