jan 16, 2009 - Lily Ledbetter Fair Pay Restoration Act
Description:
President Obama signed the Lily Ledbetter Fair Pay Restoration Act, which allows victims of pay discrimination to file a complaint with the government against their employer within 180 days of their last paycheck. Previously, victims (most often women) were only allowed 180 days from the date of the first unfair paycheck. This Act is named after a former employee of Goodyear who alleged that she was paid 15–40% less than her male counterparts, which was later found to be accurate.
Added to timeline: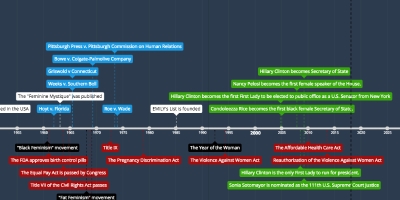 Feminism in the US
This timeline has a range of events that have shaped the fem...
Date: