may 12, 1990 - Tony and Elaine La Russa look for a no-kill animal shelter
Description:
With the rescue of a stray cat just a few days ago, Tony and his wife exhaust themselves trying to find a safe home for the cat. While searching, they find out that there wasn't a single no-kill shelter in the East Bay region of San Francisco Bay Area region. This inspired them to take action and eventually create the ARF. This event was politically significant because this signified a turning point in the La Russas' lives. One they realised how poorly these animals were being treated, they made the Animal Rescue Foundation less than a year later. Without this event, thousands of animals would still be in high-kill shelters, and thousands of would be pet owners are without the love and support of one.
Added to timeline: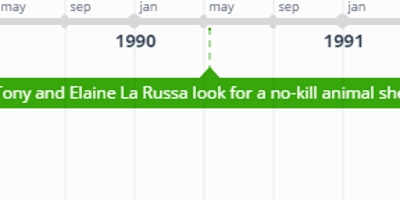 ARF Timeline
Click on green texts to see a full description, picutres, et...
Date:
Images:
YouTube:
Geo: