jan 8, 1816 - Electric Telegraph.
Description:
The first working telegraph was built by the English inventor Francis Ronalds in 1816 and used static electricity. At the family home on Hammersmith Mall, he set up a complete subterranean system in a 175 yard long trench as well as an eight mile long overhead telegraph. The lines were connected at both ends to revolving dials marked with the letters of the alphabet and electrical impulses sent along the wire were used to transmit messages. Offering his invention to the Admiralty in July 1816, it was rejected as "wholly unnecessary". His account of the scheme and the possibilities of rapid global communication in Descriptions of an Electrical Telegraph and of some other Electrical Apparatus was the first published work on electric telegraphy and even described the risk of signal retardation due to induction.[14] Elements of Ronalds' design were utilised in the subsequent commercialisation of the telegraph over 20 years later.
https://en.wikipedia.org/wiki/Electrical_telegraph
Added to timeline: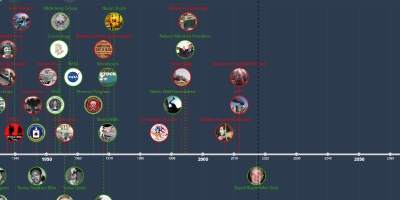 Life Through My Eyes in Time.
Trying to understand life around me in the times of now and ...
Date:
Images: