dec 30, 1799 - Electric Arc lamp
Description:
An arc lamp or arc light is a lamp that produces light by an electric arc (also called a voltaic arc). The carbon arc light, which consists of an arc between carbon electrodes in air, invented by Humphry Davy in the first decade of the 1800s, was the first practical electric light. It was widely used starting in the 1870s for street and large building lighting until it was superseded by the incandescent light in the early 20th century. It continued in use in more specialized applications where a high intensity point light source was needed, such as searchlights and movie projectors until after World War II. The carbon arc lamp is now obsolete for all of these purposes and is only still made for very specialized purposes where a high intensity UV source is needed.
https://en.wikipedia.org/wiki/Arc_lamp
Added to timeline: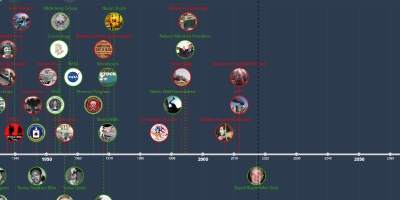 Life Through My Eyes in Time.
Trying to understand life around me in the times of now and ...
Date:
Images: