nov 1, 1862 - Dakota internment at Fort Snelling
Description:
All Dakota, men, women, and children, are imprisoned at the internment camp at the river flats below the walls of Fort Snelling. Close to 300 Dakota die over the winter because of sickness and attacks by civilians and soldiers. Continues until the spring of 1863.
Added to timeline: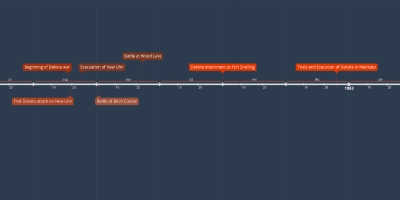 Dakota War- MN studies, Ella Mevissen
Events of the Dakota war!
Date: