jan 1, 1826 - First Examples of Photography
Description:
-The First Photograph, or more specifically, the earliest known surviving photograph made in a camera, was taken by Joseph Nicéphore Niépce in 1826 or 1827. The image depicts the view from an upstairs window at Niépce's estate, Le Gras, in the Burgundy region of France.
-Niépce began experimenting with lithographic printmaking, which led to his invention of heliography. During his trials with lithography, he experimented with light-sensitive varnishes and then with images produced in camera, but he was unable to prevent the images from fading.
-Niépce discovered that he produced his best results while using a solution of bitumen of Judea, which dated back to the ancient Egyptians but continued to be used for making lithographic engravings in the 1800s.
Added to timeline: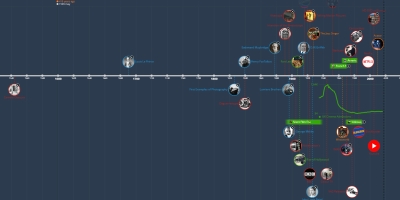 History of Film
Date:
Images:
YouTube: