12h 57min, dec 14, 2016 y - SC Chief Justice asks parties to submit objections to Typsa & Coningham reports on Nespak reports
Description:
https://www.dawn.com/news/1306015
https://www.dawn.com/news/1299915
Nespak conducted two environmental assessments of the project on the heritage sites in July 2015 and February 2016. It was used by Punjab government to go ahead with the project.
Prof Robin Coningham had been asked to comment on the Nespak report by civil society side and declared the project in contravention of the Antiquities Act, 1975. Made following objections: violates Clauses 22 and 23 of antiquities act of no construction between 200 ft; did not consider impact of vibrations on the surviving Mughal reservoir which forms part of the Shalamar Gardens, protected by the antiquities act, and Lakshmi building, protected by the Punjab Special Premises (Preservation) Ordina­nce, 1985; failed to evaluate the stability of the five potentially affected monuments; failed to show the results of any geotechnical data concerning the nature of the subsoil between the viaduct piers and the monuments; evaluate the potential impact and vibrations from the eventual removal of the viaduct piers once they reached the end of the practical lifespan.
Government side brought own expert opinion from Messrs Typsa-Asian Consulting Engineers (Pvt) Ltd which said Nespak reports are fine. Said reports fine from structural point of view and relevant with respect to safety and stability of buildings construction stage and under train operation. And that German standards were used and that was one of the most stringent available standards.
Added to timeline: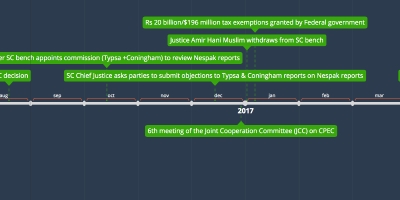 OLMT
Date: