12 h, aug 19, 2016 y - LHC decision
Description:
The Lahore High Court ordered suspension of construction work on the OLMT within 200 feet of 11 heritage sites. The order came on a petition filed by a civil society activist, Kamil Khan Mumtaz.
The heritage sites involved are the Shalamar Garden, Gulabi Bagh Gateway, Buddhu ka Awa, Chauburji, Zebunnisa's Tomb, Lakshmi Building, General Post Office, Aiwan-i-Auqaf, Sup­reme Court's Lahore registry, St Andrews Presbyterian Church and Baba Mauj Darya Bukhari's Shrine.
https://www.dawn.com/news/1306015
Added to timeline: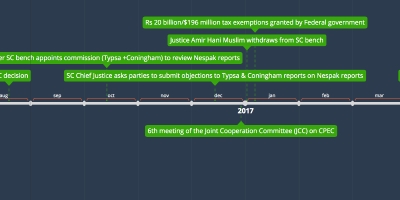 OLMT
Date: