mar 16, 1992 - .............. ADAT................. Alesis Digital Audio Tape
Description:
The product was announced in January 1991 at NAMM convention. The first ADAT recorders shipped over a year later in February or March 1992. More audio tracks could be recorded by synchronizing up to 16 ADAT machines together, for a total of 128 tracks. Several versions of the ADAT machine were produced. The best thing was you could record lots of tracks to make a stable level sounding. With magnetic tape you could rerecord over other recordings. However there was some cons to the ADAT was that it can destroy the tape its self. Damaging the recordings already done. The unclean heads in the ADAT it's self-had to be keep clean it not everyone could keep it up to high cleaning standards. You would have to format the tape before you used it making it longer to record. (or do it and be one step ahead) TAPE!
Added to timeline: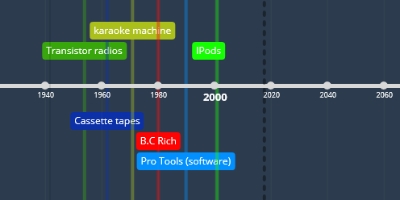 Technology in music through time.
how Technology had developed overtime.
Date:
Images: