jun 10, 1839 - Daguerreotype
Description:
-Daguerreotypy, was the first publicly available photographic process, and for nearly twenty years it was the one most commonly used.
-Invented by Louis-Jacques-Mandé Daguerre and introduced worldwide in 1839, daguerreotypy was almost completely superseded by 1860 with new, less expensive processes yielding more readily viewable images.
-To make the image, a daguerreotypist would polish a sheet of silver-plated copper to a mirror finish, treat it with fumes that made its surface light sensitive, expose it in a camera for as long as was judged to be necessary, which could be as little as a few seconds for brightly sunlit subjects or much longer with less intense lighting.
-The image is on a mirror-like silver surface, normally kept under glass, and will appear either positive or negative, depending on the angle at which it is viewed, how it is lit and whether a light or dark background is being reflected in the metal.
Added to timeline: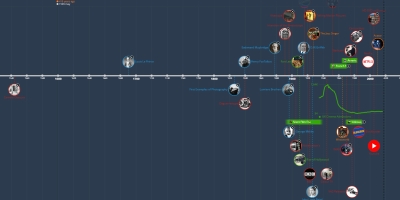 History of Film
Date:
Images:
YouTube: